Everything you need to Sell MORE Solar.
When you become an Authorized Dealer with ESP, we give you access to a suite of powerful sales software and business management tools.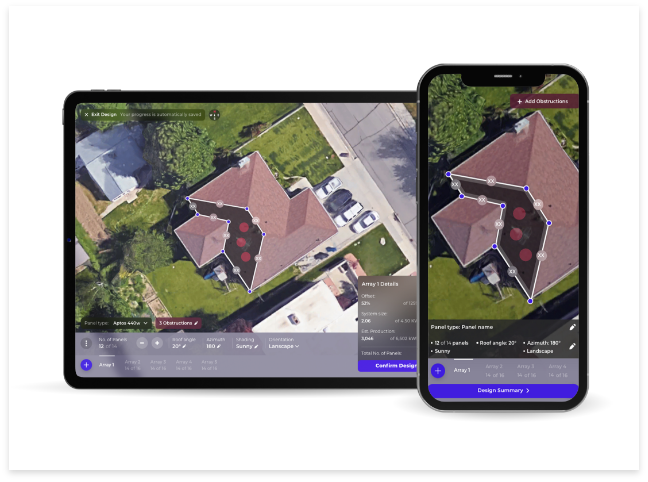 Schedule an intro call to meet your very own support crew. They're ready to get to work and help you sell faster.
We'll gather some basic info to build your profile and grant you access to finance partners and powerful apps. If you don't have an HIS license we can help you apply.
Product & Service Offerings
We'll give you spec sheets and adder lists galore. ESP offers a wide range of products and services, so you can build the perfect pitch for your next customer.
Processes & Powerful Tools built for solar people, by solar people.
Manage your sales teams, territories, leads, and reps wherever you are.
Prospecting and Proposals
Integrated lead management tools allow you to go from prospect to proposal in seconds.
Simplify how you compare finance options. Apply for credit, get approval, and sign docs right from a single sign-on.
Schedule, communicate, and track leads, opportunities, and projects across the entire organization.
Educate, select products, and design solar in our 100% customer-facing presentation that makes the process fun and engaging.
See projects move through key installation milestones with our built-in project tracker.
We've SPENT YEARS BUILDING best-in-class technology
WE EQUIP YOU WITH feature-rich sales management tools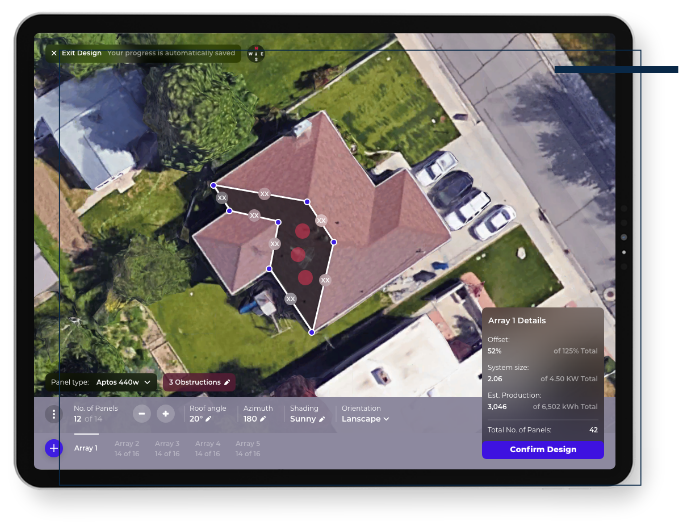 See Homeowner vs Renter and More
Our built-in QDATA feature shows you whether a home is owner-occupied or a renter. It also provides income range, length of time in the home, and more. This is crucial because it lets you skip doors that either won't qualify or will hit you with a hard "no" that you can't overcome easily, saving you valuable time and mental bandwidth.
Appointments & Follow ups
Schedule appointments, leave notes and follow-up reminders, send text and email to prospective clients, all within the app – no separate integration needed. Save time and make more money with consolidated and streamlined tools inside Quativa.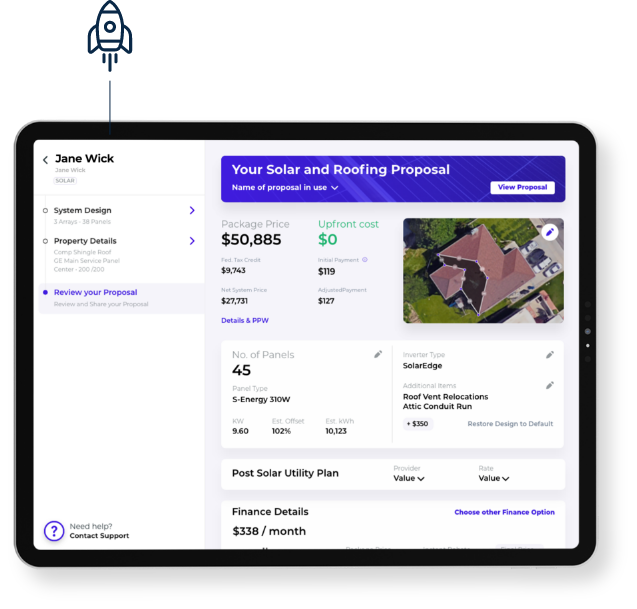 Every proposal includes a comprehensive user-friendly explanation of solar, as it relates to the specific homeowner. Customizing and comparing expected rate increase, financing plans, and solar designs lets you help your customer make an informed decision.
Multiple Options Instantly
Create as many options as the homeowner wants to see. Share it all via email with the tap of a button. Save time and money for yourself, and show the customer you have their best interest at heart by tailoring the proposal for the perfect fit.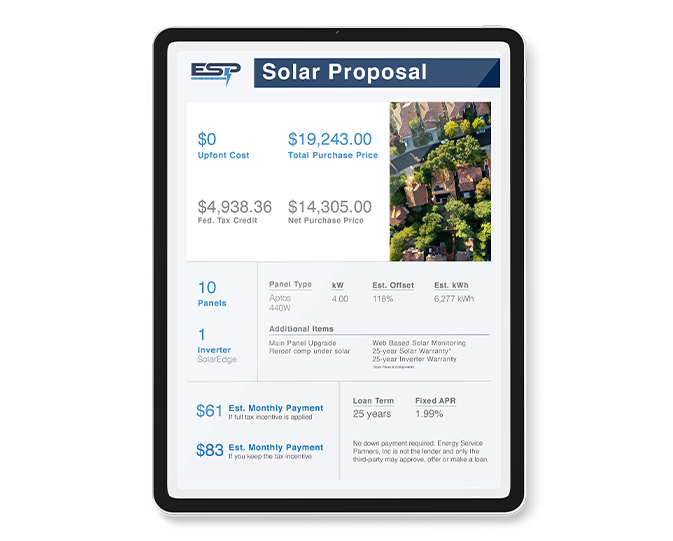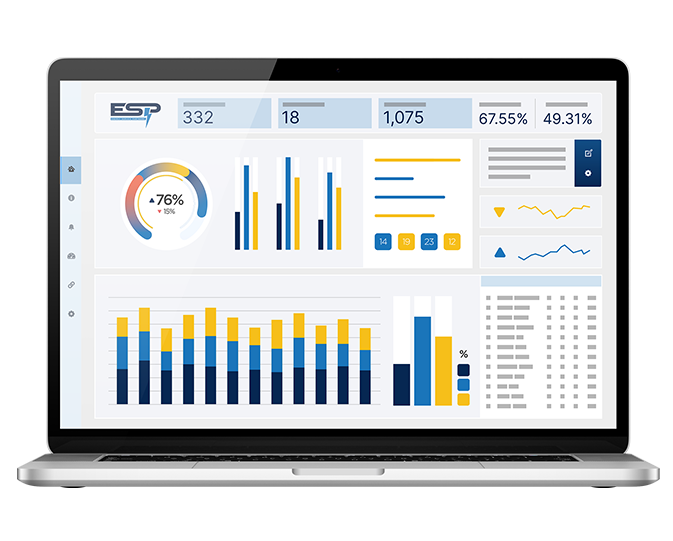 Track all your leads and projects effortlessly. Communicate with our support team if you ever need to get an update. Never lose touch with a promising prospect again. You should have fun doing your job, not stuck doing soul-crushing busy work every day.
Unlimited User Seats, Limitless Gamification
We don't charge per user, subscription blocks or "seats". There are no caps or tiered plans – you get unlimited leads, contacts, and proposals right out of the box. Assign leads to your top performing sales reps. Create gamification through leaderboards and comprehensive activity stats. Don't pay to play; pay for performance.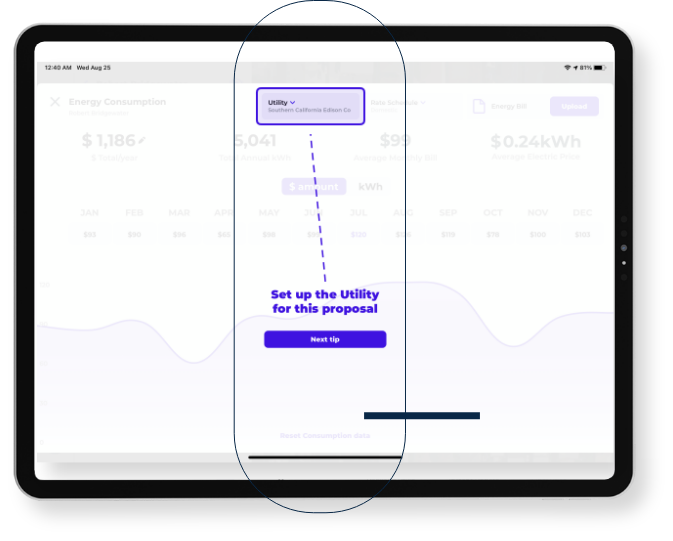 Complete sales certification takes under an hour. We offer all-inclusive company-wide training designed to set you up for success from the industry pros leading our team. Our one-time "quick start" setup fee is completely refunded to you when you make your first sale – and we'll even double it if you sell the first one fast.
Avoid Common Contract Errors
The proposal process captures every piece of info needed to hand off the project to our design and install teams, so you don't have multiple visits or delays. We help keep your contracts clean so installs turnaround faster, your paycheck comes quicker, and the homeowner gets their solar sooner.
Selling Tips & Techniques
On-demand curriculum to boost motivation, overcome objections and get to the "yes" from some of the highest-performing pros in the sales industry. We want to get you motivated and keep your momentum high.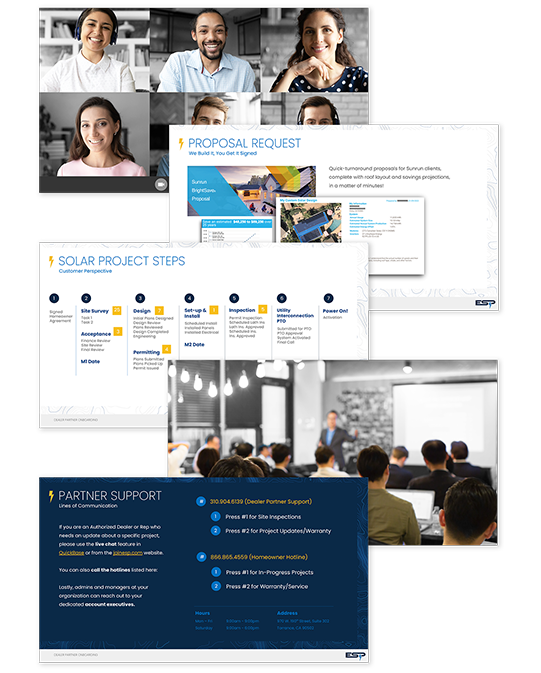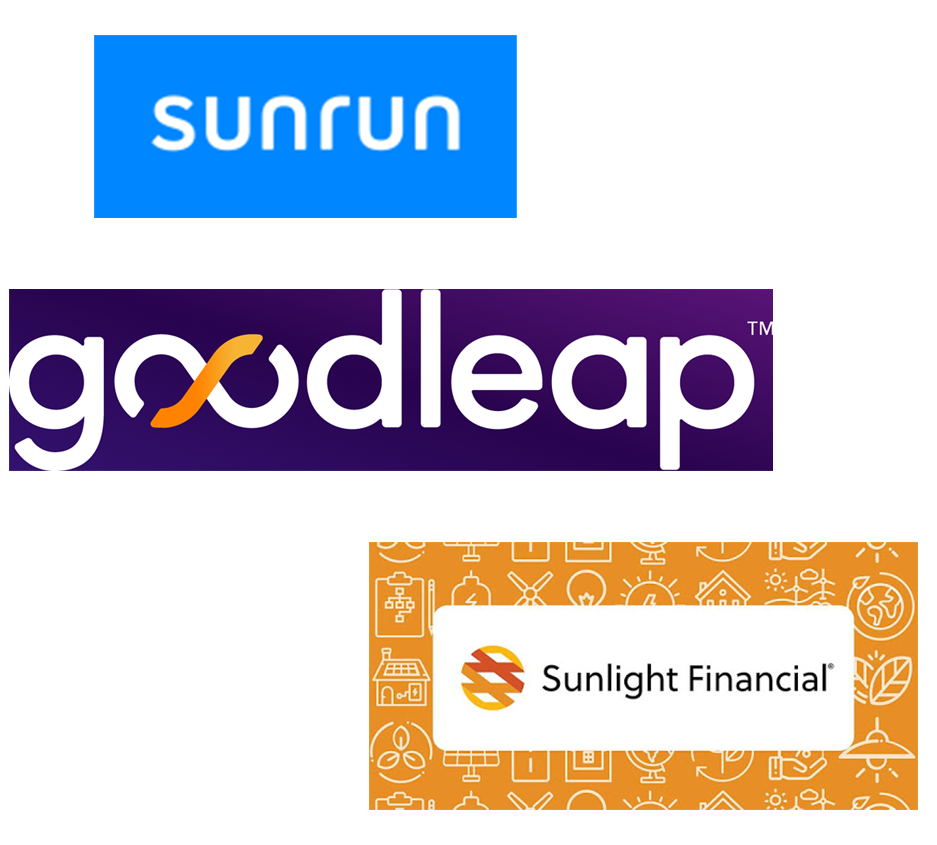 Use integrated financing tools to apply and get approved in seconds, without logging into separate lender portals (or, heavens forbid, busting out the pen and paper).
Generate multiple finance options that automatically sort the best fit to the top, from multiple lenders suitable for every customer situation. Need to meet-or-beat a competing bid? Adjust your total Package Price with a couple taps.
Crunching numbers kinda sucks, but our tools spell it all out. No more hiding your screen and calculating the costs – all the options are sorted and presented in an understandable easy-to-navigate way.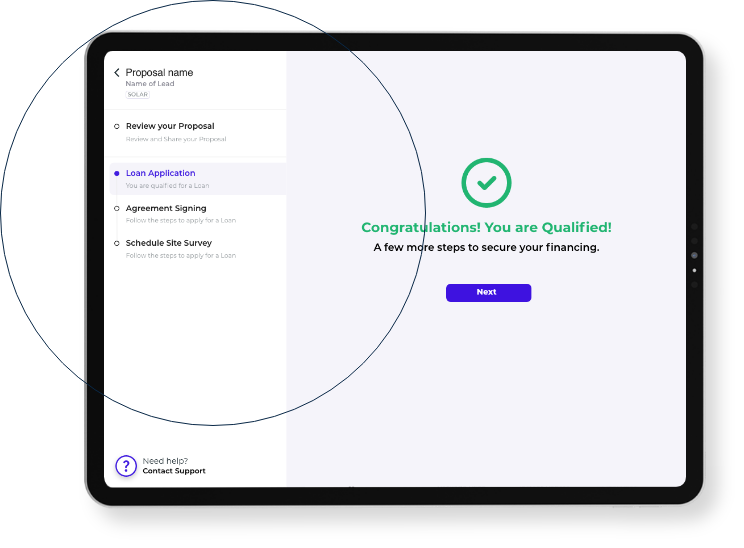 We don't make money unless you sell jobs that can be installed successfully. That's why we have an entire Advocacy Team that helps protect projects from falling off the pipeline and getting canceled due to easy fixes. Even if your rep missed a signature or forgot to upload a doc, we'll ensure you can still earn a commission by stepping in.
Measure & monitor individual reps and team performance stats. Reward your top performers and identify your weak points at a glance, to improve your overall effectiveness and profitability. Your Account Executive will meet with you regularly, to help you forecast and give you the latest and greatest news to help your business grow. We'll even throw in a pizza party and swag bags every now and then (but you gotta want it!)
Industry-leading lenders are already integrated into the system. You don't need separate logins or independent negotiations; we've already got the best rates because of the scale of our partnerships. All that stuff you don't have to do? That means you get back the time to do the stuff that makes you money.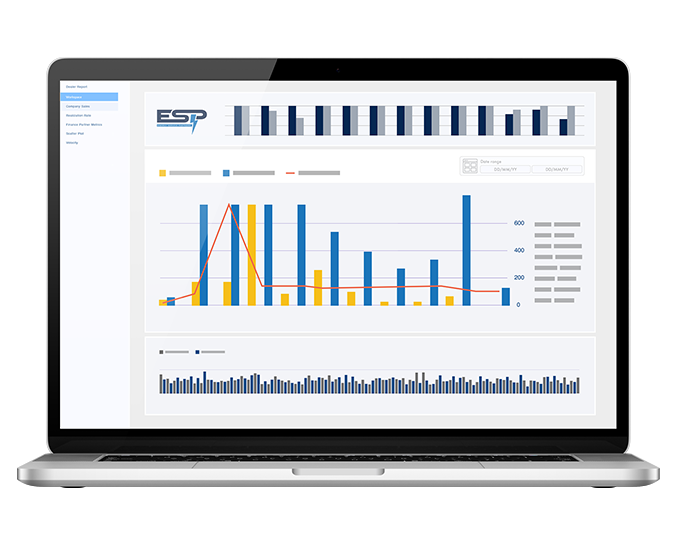 We've made it simple to start selling more solar.
It's only three steps. Schedule an interview and demo of our process. Sign the agreement. Go through onboarding and training to make sure your team knows how ESP will support you.